27 January 2020 |
Data Management & Analytics: Challenges and Modern Business Practices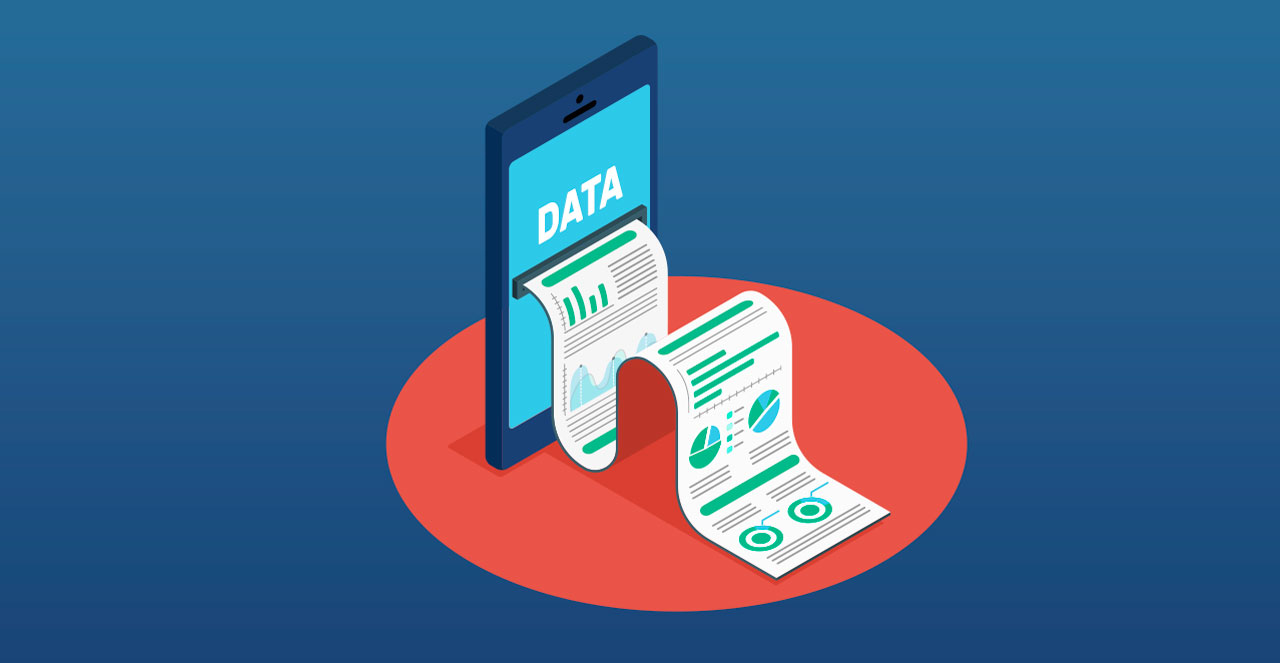 Data became a pillar of all businesses, digital ones in particular. Data is the new oil – a strategic asset of all modern companies. Like any asset, it should be properly managed. Data analytics is an advanced tool for interpreting raw data to gain a competitive advantage. With this knowledge, more businesses ramp up their analytical and technological capacities in a bid to become data insights-driven.
The driving forces for transformation into an insights-driven business are modern analytics platforms and easy access to data. The software components of analytics should be designed and implemented for a wide range of business users, keeping new technological trends in mind. At the same time, business users should strategically leverage the insights for the company to remain flexible and adapt to shifting customer behavior.
Challenges Business Users Face Turning Data Into Insights
Although most modern businesses realize the need to get smart about their data, they often lack the means, knowledge, and strategy to do so. Surprisingly, even organizations with an analytical setup, infrastructure, and dedicated personnel fail to turn their data into tangible, business-driving insights. The major challenges business users face interpreting data into actionable insights concern both technological and operational factors.
Technical limitations and imperfections of data analytics platforms
Currently, business users expect to derive insights from data within hours, not weeks. However, most old data analytics platforms are not aligned with business needs: they are not flexible enough to deliver one-off analyses and ad-hoc reports, they are not suitable for data with little or no structure, like Big Data, and they are not future-proof in accommodating modern data sources. Such data analytics platforms thwart business progress.
Lack of business-led data analytics operations
Ideally, most organizational data should be used for analytical purposes, but, in some cases, business users are not even aware that they are gathering certain data, or lack the practical knowledge and skills to draw value-driven insights from the data available. Besides, the ability to collect data usually exceeds the capacity to analyze it. At the same time, data remains siloed in different business departments, which prevents its timely and effective use. A combined effect is the lack of integrity and transparency of company-wide data management and analytics practices.
At DataArt, we can help your businesses unlock both technological and operational analytical capabilities necessary to become a truly insights-driven company. We design and build intelligent data analytics software and consult on data integration and management to target three dimensions at a time: technology & architecture, operational modelling, and analytical use cases and scenarios.
Modern Business Practices in Data Management and Analytics
Although many organizations still have a long way to go to become empowered by data, some positive changes in the minds of business stakeholders have emerged over the past decade. More companies will adopt these best practices in the coming years.
Data Innovation: A shift from defense to offence in data and analytics strategy.

Innovation has become the main focus of data management and analytics. In the past, Chief Data and Data Analytics Officers cared more about historical reporting and data security–managing and defending against leaks and cyber attacks. Today, data analytics is used for predictive and prescriptive analytics. Such omnipresent technological trends as machine learning and data science unlock data analytics as a business growth opportunity. No wonder businesses have a growing appetite for it.

Data analytics is no longer for IT units only

Data analytics can be an effective tool, but without a strategic shift from IT to business technology, it remains virtually useless. Along with dedicated IT departments, business stakeholders become more involved in modelling and choosing technologies for analytical systems, integrating embedded BI and analytical tools, and spelling out their use cases. Business needs determine the ultimate architecture and capacity of the data analytics systems, not vice versa. Inside organizations, IT departments are no longer focused on building reports; instead, they help build self-service analytical platforms so their business peers can draw their own insights from the available data.

Data analytics tools are used by a broader audience.

Because of the previous trend, data analytics systems tend to be used by a wider circle of stakeholders both inside and outside a company–data management officers, business and BI analysts, data scientists, and an ecosystem of external stakeholders. This way, data insights come from multiple perspectives and empower different units within a company.

Growing demand for data analytics and collateral skills

With the growing maturity of data practices, advanced data analytics skills–including data management and operation, data lineage, data governance, metadata management, Big Data analysis, data warehousing, data visualization, BI and reporting, and more– continue to increase in popularity. These skills can be applied in any data analytics platform, no matter the business industry profile.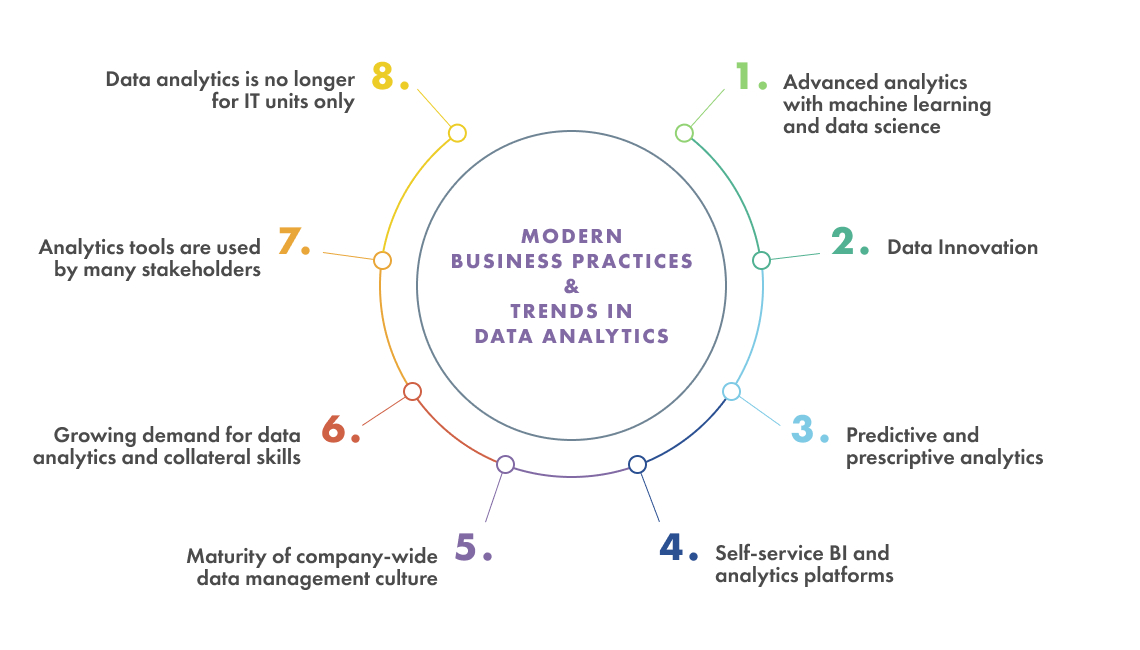 To keep up with trends and to become truly insights-driven, a company should have a comprehensive data management and analytics strategy, targeting both technology and operations levels. DataArt will help you build it -- from solution design, architecture, and technology choice to drawing actionable insights by business users through direct interaction with data.
As transformation into an insights-driven business takes months, if not years, proper data management culture is essential. The company management should get accustomed to adjusting their strategy and decision-making in accordance with the data-driven insights instead of blindly relying on biased, subjective opinions. DataArt will help you change how data is perceived in the organization and guide personnel in leveraging analytics for strategic decision making. Our team knows how to lay a course for data-driven innovation with modern analytics platform powered by agile organisational data. Take a look at our offerings at Data, BI and Analytics.